Spring Awakening is a Tony Award-winning rock musical with music by Duncan Sheik and book and lyrics by Steven Sater. The musical is based on the controversial 1891 play of the same title by Frank Wedekind.
Set in late-nineteenth century Germany, it concerns teenagers who are discovering the inner and outer tumult of Human sexuality. The original play was banned in Germany due to its portrayal of masturbation, abortion, rape, and suicide. In the musical, alternative rock is employed as part of the folk-infused rock score.
After a number of workshops, concerts and rewrites over a seven-year period, Spring Awakening premiered Off-Broadway at the Atlantic Theatre Company on May 19, 2006 and ran through August 17, 2006. The show then opened on Broadway at the Eugene O'Neill Theatre on December 10, 2006 and received favorable reviews. Spring Awakening received eleven 2007 Tony Award nominations, winning eight, including Tonys for best musical, direction, book, score and featured actor. The show also won four Drama Desk Awards, including Outstanding Musical. The production is directed by Michael Mayer and choreographed by Bill T. Jones.
Decca Broadway released the original cast recording on December 12, 2006, which won the Grammy Award for Best Musical Show Album in 2008. The guitar Sheik used to compose songs for Spring Awakening is on display at the New York Library For The Performing Arts.
Spring Awakening closed on Broadway on January 18, 2009, after 888 performances (859 on Broadway, 29 previews).
Act I
Wendla Bergmann, an adolescent in late-nineteenth century Germany, laments that her mother gave her "no way to handle things" and has not taught her the lessons she needs to learn ("Mama Who Bore Me"). She tells her mother that it is time she learned from where babies come, considering that she is about to be an aunt for the second time, but her mother cannot bring herself to explain the facts about conception clearly to Wendla. Instead, she simply tells Wendla that to conceive a child a woman must love her husband with all of her heart. The other young girls in town appear to be similarly innocent and are upset about the lack of knowledge presented to them ("Mama Who Bore Me (Reprise)").
At school, some teenage boys are studying Virgil in Latin class. When Moritz Stiefel, a very nervous and intense young man, sleepily misquotes a line, the teacher chastises him harshly. Moritz's classmate, the rebellious and intelligent Melchior Gabor, tries to defend him, but the teacher will have none of it, and hits Melchior with a stick. Melchior reflects on the shallow narrow-mindedness of school and society and expresses his intent to change things ("All That's Known").
Moritz describes a dream that has been keeping him up at night, and Melchior realizes that Moritz has been having dreams of an erotic nature. To comfort the panicked Moritz, Melchior, who has learned sexual information from books, tells Moritz that all of the boys at their age get the dreams. The burned-out boys tell about their own frustrating thoughts and desires ("The Bitch of Living"). Moritz, who is not comfortable talking about the subject with Melchior, insists t of the boys and girls express their desires for physical intimacy ("Touch Me").
Wendla stumbles upon Melchior while walking through the woods. The two share a moment while sitting together in front of a tree. Each of them considers what it would be like to give in to their physical desires, but they do not do so ("The Word of Your Body"). Meanwhile, at school, Moritz is thrilled to learn that he has passed his midterm examinations, but the teacher and schoolmaster cannot pass everyone, so they decide to fail Moritz.
Martha, one of the teenage girls, accidentally admits to her friends that her father abuses her physically (including sexual abuse) and that her mother is either oblivious or uncaring. The other girls are horrified to hear this, but Martha makes them promise not to tell anyone, lest she end up like Ilse, a friend from childhood who now wanders homeless and aimless because her parents kicked her out of the house.("The Dark I Know Well"). Later, Wendla finds Melchior again at his spot in the woods and tells him that her father regularly abuses one of her friends. Melchior is appalled to hear this, but Wendla convinces him to hit her with a switch, so that she can understand her friend's pain. Melchior reluctantly complies but is carried away and throws her to the ground. He then runs off, disgusted with himself, as she weeps curled up on the ground. Alone, Wendla finds that Melchior has left his journal on the ground. She picks it up and takes it with her.
Moritz has failed his final examination, and his father reacts with disdain and contempt when Moritz tells him that he will not progress in school. Moritz writes to Melchior's mother, his only adult friend, for money to flee to America; she tenderly but firmly denies his request but promises to write his parents to discourage them from being too hard on him ("And Then There Were None").
In a stuffy hayloft during a storm, Melchior considers his own frustration at being caught between childhood and adulthood ("The Mirror-Blue Night"). Wendla finds him once again, telling him she wants to return his journal, and each awkwardly apologizes for what happened the last time they met. Before long, they begin to kiss; Wendla resists his advances at first. Although she seems uncertain about how far she wants to take their physical relationship, they begin to have sex as the lights go down. ("I Believe").
Act II
Wendla and Melchior are finishing their moment of intimacy in the hayloft; they reflect on and discuss what has just happened ("The Guilty Ones"). Moritz, having been thrown out of his home, wanders the town at dusk, carrying a pistol ("Don't Do Sadness"). He happens upon free-spirited Ilse, who has found refuge at an Artists' colony, she invites him to join her in sharing some childhood memories, and perhaps something more, but Moritz refuses ("Blue Wind"). After she has left, he calls after her, but it is too late; she is gone. Regretting his lost opportunity to follow Ilse, and believing that he has nowhere to turn, Moritz shoots himself.
At Moritz's funeral, each of his friends drops a flower into his grave, and Melchior chastises Moritz's father for being so cruel to his friend, as the other students look at Moritz's father with disgust for pushing Moritz too hard when he was alive ("Left Behind"). Back at school, the schoolmaster and teacher inform Melchior that Moritz's parents found the sex essay he had written for him. They lay the blame on Melchior for his friend's suicide, and although Melchior knows that he is not to blame, he knows there is nothing he can do to fight them, and he is expelled ("Totally Fucked"). Elsewhere that night, Hanschen meets up with his shy and delicate classmate Ernst. Hanschen shares his pragmatic outlook on life with his classmate before seducing him. It is Ernst's first sexual experience, and he tells Hanschen that he loves him as the two share a passionate kiss ("The Word of Your Body (Reprise)").
Wendla has become ill, and her mother takes her to visit a doctor. He gives her some medication and assures them both that Wendla is suffering from anemia and will be fine, but he takes Wendla's mother aside and tells her that Wendla is pregnant. When her mother confronts her with this information, Wendla is completely shocked, not understanding how this could have happened. She realizes that her mother lied to her about how babies are made. Although she berates her mother for leaving her ignorant, her mother rejects the guilt and insists Wendla tell her who the father is. Wendla reluctantly surrenders a passionate note Melchior sent her after they consummated their relationship. Wendla reflects somberly on her current condition and the circumstances that led her to this difficult position but ends with optimism about her future child ("Whispering"). Meanwhile, Melchior's parents argue about their son's fate; his mother does not believe that the essay he wrote for Moritz is sufficient reason to send him away to reform school. When Melchior's father tells his wife about Wendla's pregnancy, however, she agrees that they must send Melchior away, which they do without telling him that Wendla is pregnant.
At the reform school, Melchior gets into a fight with some boys who grab a letter he has just received from Wendla and use it in a masturbation game. As one of the boys reads from the letter, Melchior finally learns about Wendla and their child, and he escapes from the institution to find her. He does not know that Wendla's mother has already taken her to an underground practitioner to have an abortion. When Melchior reaches town, he sends a message to Wendla's friends to have her meet him at the cemetery at midnight. There, he stumbles across Moritz's grave, and swears to himself that he and Wendla will raise their child in a compassionate and open environment. Spotting her freshly dug grave, Melchior discovers that Wendla has died from her abortion. Overwhelmed by shock and grief, he takes out a razor with the intention of killing himself. Moritz's and Wendla's spirits rise from their graves to offer him their strength. They persuade him to journey on, and he resolves to live and to carry their memories with him forever ("Those You've Known").
Led by Ilse, everyone assembles onstage to sing "The Song of Purple Summer" about life and hope.
Musical numbers
Edit
Act I

"Mama Who Bore Me" – Wendla
"Mama Who Bore Me (Reprise)" – Wendla and Girls
"All That's Known" – Melchior
"The Bitch of Living" – Moritz, Melchior and Boys
"My Junk" – Girls and Boys
"Touch Me" – Boys and Girls
"The Word of Your Body" – Wendla and Melchior
"The Dark I Know Well" – Martha, Ilse and Boys
"And Then There Were None" – Moritz and Boys
"The Mirror-Blue Night" – Melchior and Boys
"I Believe" – Boys and Girls

Act II

"The Guilty Ones" – Wendla, Melchior, Boys and Girls
"Don't Do Sadness" – Moritz
"Blue Wind" – Ilse
"Don't Do Sadness/Blue Wind" – Moritz and Ilse
"Left Behind" – Melchior, Boys and Girls
"Totally Fucked" – Melchior and Full Company (except Moritz)
"The Word of Your Body (Reprise)" – Hanschen, Ernst, Boys and Girls
"Whispering" – Wendla
"Those You've Known" – Moritz, Wendla and Melchior
"The Song of Purple Summer" – Ilse and Full Company

++Note: "The Guilty Ones" replaced off-Broadway version's Act II opening, "There Once Was A Pirate"; the latter is available as a bonus track sung by composer Duncan Sheik on the original cast recording.
Original Concept
Edit
Before opening the show off-Broadway, Duncan Sheik had composed an arrangement of song demos for the original concept of Spring Awakening. The plot followed more closely to the original play's plot.
Steven Sater and Duncan Sheik had originally intended for Wendla to actually be raped by Melchior at the end of "I Believe", but decided to change that plot because he wanted the scene to be more loving between the two characters, and "I Believe" didn't give off a "raping" kind of feeling.
"All That's Known" replaced a song titled "All Numb". Both songs had the same theme, but because the directors had to reduce time for the show, "All Numb" was cut and replaced with "All That's Known".
A song called "A Comet On Its Way" was replaced by "The Bitch of Living", both songs followed the same basic theme. Though, Shiek thought that "The Bitch of Living", being more upbeat, fit the show better.
"Those You've Known" replaced a song called "The Clouds Will Drift Away", which was cut because Sheik wanted the song between the three main characters to stay close to the "All That's Known" theme.
"Mama Who Bore Me (Reprise)" was originally intended to be performed after "Touch Me".
Another song, entitled "Great Sex" (which was intended to be performed after "Mama Who Bore Me (Reprise)"), was also cut from the show because the directors thought the song pointed out the theme of the show too vaguely.
Finally, songs such as "Touch Me" and "The Mirror-Blue Night" each had a reprise. Even "There Once Was A Pirate", which was cut, also had a reprise.
The play's major theme is sex and the discovery of it. The play contrasts two conflicting views of sex: Melchior's flippant, hedonistic, purely physical view and the older generation's oppressive prudish view. In Act 1, it the play would seem to be promoting Melchior's view, but at the play's closure, the message is given that neither Melchior's view of sex nor that of the older generation is the right view to have, as both views led to pain and confusion. A main idea is that, while none of the deaths in the play would have occurred without sex, we couldn't have life in general without sex as well.
Roles and cast information
Edit
Original Broadway cast [1]

Final Broadway Cast:

Melchior;- Hunter Parish
Wendla – Alexandra Socha
Moritz – Gerard Canonico
Adult Men – [[Glenn Fleshler] U/S Tony Carlin]
Adult Women – Christine Estabrook
Ilse – Emma Hunton
Georg/Dieter – Andrew Durand
Martha – Amanda Castaños
Ernst/Reinhold – Blake Daniel
Otto/Ulbrecht – Gabriel Violett
Anna – Emily Kinney
Hanschen/Rupert – Matt Doyle
Thea – Caitlin Kinnunen
Ensemble - Morgan Karr, Alice Lee, Eryn Murman, Zach Reiner-Harris,
Swings - Jesse Swenson


Original Touring Cast

Melchior - Kyle Riabko
Wendla – Christy Altomare
Moritz – Blake Bashoff
Adult Men – Henry Stram; U/S Todd Cerveris
Adult Women – Angela Reed; U/S Kate Fuglei
Ilse – Steffi D.
Georg/Dieter – Matt Shingledecker
Martha – Sarah Hunt
Ernst/Reinhold – Ben Moss
Otto/Ulbrecht – Anthony Lee Medina
Anna – Gabrielle Garza
Hanschen/Rupert – Andy Mientus
Thea – Kimiko Glenn
Ensemble - Julie Benko, Perry Sherman, Krystina Alabado, Lucas A. Wells
Swings - Claire Sparks, Chase Davidson

Notable Tour Replacements:

Melchior - Matt Doyle, Jake Epstein
Moritz - Taylor Trensch
Ernst - Ben Fankhauser
Thea - Claire Sparks
Ensemble - Kayla Foster
Swings - Krista Pioppi

Notable Broadway Replacements:


Original London Cast:

Melchior – Aneurin Barnard
Wendla – Charlotte Wakefield
Moritz – Iwan Rheon
Ilse – Lucy Barker
Martha – Hayley Gallivan
Thea – Evelyn Hoskins
Anna – Natasha Barnes
Hanschen – Jamie Blackley
Ernst – Harry McEntire
Georg – Jos Slovick
Otto – Edd Judge
Adult Woman – Sian Thomas (1st Understudy Yvonne O'Grady, 2nd Understudy Connie Walker)
Adult Man – Richard Cordery (1st Understudy Andrew McDonald, 2nd Understudy Geoffrey Towers
Other productions
Edit
Template:Cleanup-section A U.S. national tour (with one stop in Toronto, Canada) opened August 15, 2008 at The Balboa Theatre in San Diego, California. Tour dates have been announced through to May 2010. [2]
The European premiere took place on August 30, 2008, at Värmlandsoperan in Karlstad, Sweden. The production is directed by Per Eltvik and choreographed by Åsa Thegerström. The Swedish text is by Fredrik Fischer and Linnea Sjunnesson. It stars Joán Alderman (Melchior), Mari Haugen Smistad (Wendla) and Ole Aleksander Bang (Moritz). This production closed in March 2009.Template:Fact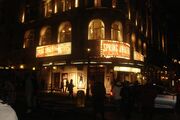 The London production began 23 January 2009 at the Lyric Hammersmith and transferred to the Novello Theatre on March 21 2009. [3] It closed on May 30, 2009. [4]
An English-language production will open in Valletta, Malta at the St. James Cavalier Theatre on 17 April, 2009. This production will be directed by Wesley Ellul, choreographed by Fiona Barthet, Renzo Spiteri will be the musical director, and Alex Vella Gregory will be the vocal coach. This will be produced by the MADC. [1]See Official Website
The Hungarian-language (first non-replica) production premiered on 7 February 2009 in Budapest at Budapest Operetta and Musical Theatre. It is often praised for its use of eccentric interpretive dance and disco cubes.[5]
The second Swedish-language production will open in Helsingborg, Sweden on 20 March 2009.[6]
A Danish-language production will open in Aalborg, Denmark on 13 May 2009.
There is a third Swedish production planned, as well as three productions in Norway. [2]
The South Korean production will open in Seoul in 2009.[7] Spring Awakening Korea
The Philippine production, to be produced by Manila-based Atlantis Productions, will run in Carlos P. Romulo Auditorium from September 25 to October 17, 2009.
The German-language premiere opened in Vienna, Austria in a limited run at the Ronacher Theatre on March 21, 2009, and closed on May 30, 2009.[8] A live cast recording was released.
The Finnish production opened in Helsinki in February 2009. [9]
The Japanese-language production opened in Tokyo at the Shiki Theatre Jiyu May 2, 2009. Spring Awakening Tokyo
There was a production performed by students of the RSAMD (Royal Scottish Academy of Music and Drama)which did not have the musical numbers and was only open fron the 20th to the 27th of May 2009
Sydney Theatre Company has announced they will stage the first Australian production in February 2010. A national tour is possible, but not confirmed.[3]
The official Brazilian production [non-replica] is set to open August 21st, in Rio de Janeiro. Wendla will be played by a 15-year-old (youngest Wendla ever).
Awards and nominations
Edit
Win/Best Musical
Win/Best Book of a Musical (Steven Sater)
Win/Best Original Score (Music and/or Lyrics) Written for the Theatre (Music: Duncan Sheik; Lyrics: Steven Sater)
Nomination/Best Performance by a Leading Actor in a Musical (Jonathan Groff)
Win/Best Performance by a Featured Actor in a Musical (John Gallagher Jr.)
Win/Best Direction of a Musical (Michael Mayer)
Win/Best Choreography (Bill T. Jones)
Win/Best Orchestrations (Duncan Sheik)
Nomination/Best Scenic Design of a Musical (Christine Jones)
Nomination/Best Costume Design of a Musical (Susan Hilferty)
Win/Best Lighting Design of a Musical (Kevin Adams)

Win/Outstanding New Broadway Musical
Win/Outstanding New Score (Broadway or Off-Broadway)
Win/Outstanding Director of a Musical (Michael Mayer)

New York Drama Critics Circle Award

Win/Grammy Award for Best Musical Show Album

Win/Outstanding Musical (tied with In the Heights)
Nomination/Outstanding Director (Michael Mayer)
Nomination/Outstanding Choreographer (Bill T. Jones)
Nomination/Outstanding Costume Design (Susan Hilferty)
Win/Outstanding Lighting Design (Kevin Adams)
Nomination/Outstanding Sound Design (Brian Ronan)
Film Adaptation
Edit
Warner Brothers has announced consideration of making a movie adaptation of Spring Awakening. Template:Fact McG is announced as being attached to direct.
References
Edit
Link title[[File:Media:Example.jpg<nowiki>Insert non-formatted text here$ '''Insert formula here'''[[[[Link title]] == == Headline text == [[File:[[File:Example.jpg]][[File:[[File:Example.jpg]][[File:[[File:Example.jpg]][[File:[[File:Example.jpg]][[File:[[File:Example.jpg]][[File:[[File:Example.jpg]][[File:Example.jpg]]]]]]]]]]]]]] == ]] $</nowiki>]]
System.out.println("Berniece is a faggot"); http://web.archive.org/20090415131253/www.hollywoodreporter.com/hr/content_display/news/e3i89d7632ddc985bd12f9141028a416f81
External links
Edit
Template:DramaDesk Musical Template:TonyAwardBestMusical 2001-2025 Template:TonyAward MusicalScore 2001-2025 Template:TonyAward MusicalBook 2001-2025 Template:Duncan Sheik
de:Frühlings Erwachen (Musical) it:Spring Awakening ja:春のめざめ
pt:Spring awakening
Cite error: <ref> tags exist, but no <references/> tag was found
Community content is available under
CC-BY-SA
unless otherwise noted.